What is Oshu?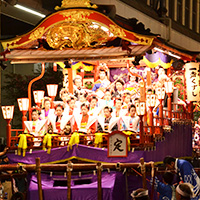 Hidaka Hibuse Festival
Oshu City was formed on February 20, 2006 from the merger of five municipalities,Mizusawa City, Esashi City, Maesawa Town, Isawa Town and Koromogawa Village.
The Kitakami River flows through the center of the region. On the west side of the river, the Isawa Fan spreads out, opened by the Isawa River. You can see houses scattered throughout the region, surrounded by water and greenery.
And to the east of the Kitakami River, there is wide-open countryside leading to the Kitakami Mountains. At the east end of the district, you can find the Taneyama Heights and Abarayama Heights. The entire region is blessed with rich, green nature.
Oshu Sightseeing Promotion Video (Produced by Oshu City)
"A Tour of Oshu ~The Sights and Sounds of Festivals Painting the Four Seasons~"